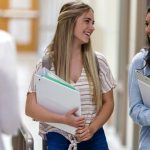 A Guide to College Scholarships for Women: How to Get the Money You Deserve
For many young women, the dream of attending college is a dream. But, unfortunately, the cost of tuition alone is often enough to keep them from pursuing higher education. But did you know there are scholarships for women seeking a college degree? This article will explore some of the best options for female students looking for financial assistance. So don't let money stand in the way of your dreams—read on to learn more about how to get scholarships for women!
Grants and scholarships for women
The high cost of college tuition can be a major barrier to getting the education you deserve. But there is good news: many scholarships are available specifically for women. By researching and taking advantage of the available resources, you can find the money you need to pay for school.
Here are some tips on how to get started:
Look for scholarships that fit your specific circumstances. There are many scholarships out there that are targeted towards women with specific backgrounds or interests. For example, if you're a minority woman, look for earmarked scholarships for minorities. If you have a unique hobby or skill, look for scholarships that focus on that activity. The more specific the scholarship is, the less competition you'll face.
Get help from your guidance counselor. Your high school guidance counselor is an excellent resource for finding scholarships. They can help you identify which ones you might be eligible for and advise you on applying.
Start early. Don't wait until the last minute to start looking for scholarships. The sooner you start, the more time you'll have to find the ones that are right for you.
Follow directions. Make sure you read the requirements for each scholarship carefully and follow them to the letter. Failure to do so could result in your application being rejected.
Once you've finished filling out your application, take the time to proofread it carefully. Check for grammar and spelling errors, and make sure all the information is accurate.
Be persistent. Applying for scholarships can be a lot of work, but it's worth it if you get the money you need to pay for college. If you don't get a scholarship the first time, don't give up – keep trying until you find one that's right for you.

Great scholarships for women in engineering
There are many scholarships available for women interested in studying engineering. Below are some of the most notable and respected programs offering financial assistance to female engineering students.
The Society of Women Engineers (SWE) Scholarship Program: This program offers over 200 scholarships to women at various stages of their engineering education, from high school seniors to graduate students. Scholarships range from $1,000-$10,000. Visit the SWE website for more information on eligibility and how to apply.
The National Aeronautics and Space Administration (NASA) Aerospace Scholarships: These scholarships are part of a larger NASA initiative to increase diversity in aerospace engineering. Selected students will receive a $10,000 scholarship for their engineering education and a paid summer internship at a NASA research center. Scholarships are open to students of all backgrounds, but preference is given to women and members of underrepresented groups in STEM. For more information and to apply, visit the NASA website.
The American Association of University Women (AAUW) International Fellowships: This fellowship is awarded to women who are not U.S. citizens or permanent residents and are planning to pursue full-time graduate or postdoctoral study in the United States. Fellowships are available for master's and doctoral studies and can be used for study in any field. For more information and to apply, visit the AAUW website.
The Google Anita Borg Scholarship: This scholarship is awarded to female students studying computer science, with a preference for those planning to pursue careers in technology. Scholarships range from $1,000-$10,000. For more information and to apply, visit the Google website.
The National Defense Science and Engineering Graduate Fellowship (NDSEG): This fellowship is awarded to U.S. citizens and nationalities who are planning to pursue a doctoral degree in one of the following fields: mathematics, engineering, or the physical sciences. Fellowships cover full tuition and provide a stipend for living expenses. For more information and to apply, visit the NDSEG website.